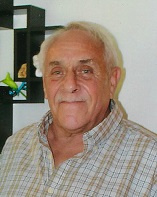 ---
Barry Rohrick, 73, of Oelwein passed away Friday November 19, 2021. Visitation will be from 4-7 PM on Tuesday November 23, 2021 at the Geilenfeld-Buehner Funeral Home in Oelwein. Funeral services will begin at 10:30 AM on Wednesday November 24, 2021 at the funeral home. Interment will be in the Strawberry Point Cemetery at Strawberry Point. A memorial fund has been established.
Barry Michael Rohrick was born in Oelwein on April 26, 1948 to parents Robert and Dorothy (McInnis) Rohrick. He graduated from Oelwein High School with the class of 1966. In 1967 he was united in marriage with Vicki Cummings in Oelwein. Three children were born to this union. They later divorced. In 1976 he was united in marriage with Lila Maker in Norwalk, CA. Barry had been employed as a machinist and munitions tester with Chamberlain Manufacturing in Waterloo, as a machinist with Angelus and McDonnell-Douglas, both in California, and Doerfer Engineering in Cedar Falls.
Barry was an avid fisherman and hunter from the time he was a young boy. He really liked to catch turtles, from which he acquired the nickname of "Turtle". He also loved riding his Harley, building his own bike along with Lila's 3 wheeled motorcycle. Whenever he had the TV going it was most certainly tuned into some old Western show or movie. He also looked forward to holidays when he could have time with his grandkids. Barry and Lila's family was made complete with their pet dogs, turtles, and his parrot Mac.
Left to celebrate Barry's life are his wife Lila; his children: Renae (Jason) Johanningmeier of Valley Junction, Brian (Kelly Kono) Rohrick of Oelwein and Heidi (Tommy) Jones of Fairbank; his mother Dorothy Rohrick of Oelwein; his seven grandchildren and seven great-grandchildren; his siblings: Pam Noah of Waubeek, Craig (Carolyn) Rohrick of Independence, Deb (Mahone) McLaury of Oelwein, Kim Annis of Oelwein and Lisa (Mike) Peckham of Oelwein; several nieces and nephews.
He was preceded in death by his father Robert; his children: Barry Michael, Steven Allen and Donny Rohrick, and a stillborn child; his grandson Christopher Madonia.