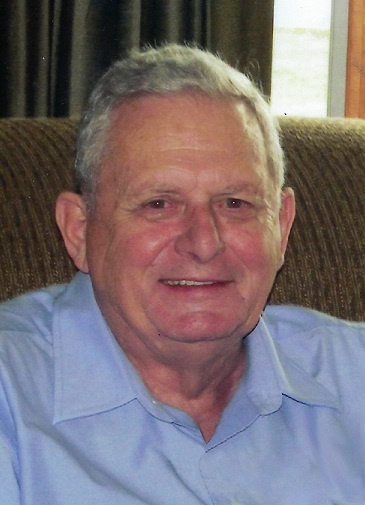 Merville (Bud) Caldwell, 92, of Oelwein passed away on Monday August 7, 2023 at MercyOne Medical Center in Oelwein. Visitation will be from 4:00-7:00 PM on Friday August 11, 2023 at the Geilenfeld-Buehner Funeral Home in Oelwein. Funeral services will begin at 12:30 PM on Saturday August 12, 2023 at Zion Lutheran Church in Oelwein with Pastor Josh Schunk officiating. Interment will be in the Hazleton Fontana Cemetery. A memorial fund has been established.
Merville Glenn (Bud) Caldwell was born February 4, 1931 in LaPorte City, Iowa, the son of Carlyle H. and Gladys (Purdy) Caldwell. He had 5 brothers and 3 sisters. After high school, Bud worked in a sawmill; climbed and fixed windmills; tiled fields; and farmed with his dad.
On February 19, 1950, he married Delia Kaufmann in Aurora, Iowa. They were married 46 years and were blessed with three daughters: Marsha (Roger) Miller; Linda Caldwell (Larry Faust); and Sandra (Rick) Short —all of Oelwein; 7 grandchildren; 18 great-grandchildren; and 12 great-great grandchildren.
Bud worked at the OK Tire Shop and in the dairy at MHI in Independence, Iowa until 1955 when he and Delia moved to Hiawatha to work at Keinz's Dairy. In 1957 they moved to Oelwein where he worked for a short time at Wardell Chevrolet as a mechanic. He then worked until he retired in 1996 as shop foreman at Oelwein Implement (King Brother's); Case IH; and Hub City Implement.
On July 26, 1997, he married Joyce Brentise in Oelwein, Iowa. The marriage was blessed with Joyce's daughter, Teresa (David) Sands; a son, Timothy (Klarissa) Hendley; 3 grandchildren and 2 great grandchildren. Bud and Joyce lived in DeWitt, Iowa and were married for 16 years.
Bud was a "handy man" and could fix a number of things around the house and farm. He would get calls to listen to tractors over the phone and tell the caller what was wrong and how to fix it. Bud also plowed snow around Oelwein for many years. He enjoyed watching professional wrestling and boxing; traveling; hunting; and spending time with his family.
He is preceded in death by Delia; Joyce; a son-in-law, Larry; 4 bother-in-laws; a sister-in-law; his parents; 4 brothers; and 2 sisters.