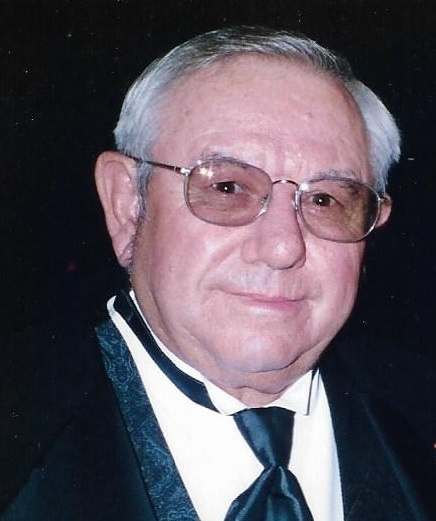 ---
Dale Keil, 85, of Independence passed away Wednesday December 21, 2022 at his home. Visitation will be from 4:00 PM-7:00 PM on Monday January 2, 2023 at the Geilenfeld-Buehner Funeral Home in Oelwein. Funeral services will begin at 10:30 AM Tuesday January 3, 2023 at Stanley Union Church in Stanley with Pastor Phil Rownd officiating. Interment will be in Floral Hills Memorial Gardens at Hazleton. A memorial fund has been established.
Dale Irwin Keil was born on October 8, 1937 to Sylvia Marie (Heitzman) and Irwin Clarence Keil, on the family farm in Washington, IL. Dale attended the local schools, graduating from Washington High School with the class of '55.
During high school, he was active in band, where he excelled in playing the cornet. His love of music stayed with him throughout his life, with his personal favorites being anything patriotic, Glenn Miller, Tommy Dorsey, the big band era, and a good John Philip Sousa march!
Dale had a quick wit and an outgoing personality that didn't go unnoticed when he was in high school. His nickname was Cuddles, which was the source of many jokes throughout the years.
In March of 1957, Dale moved with his parents to the Keil farm NE of Independence, IA where he resided until his death.
Dale was united in marriage to Charlene Diane Schultz on April 20, 1957 at the EUB church in Washington, IL. Three children were born of this union, Bruce Dale, Cynthia Lynn and Brent David.
Dale and his wife, Charlene farmed NE of Independence for many years, still residing on the same farm 65 years after their marriage. Dale was an active member of the Stanley Union Church in Stanley, IA, the Iowa Farm Bureau, Buchanan Co. Dairy Producers, and the World Holstein Friesian Federation. For 16 years, Dale was co-leader of the Byron Vikings 4-H club. There are several "boys" from that club that have offered their time and efforts to help Dale and Charlene out when they have needed an extra hand during the last several years. A testimony, no doubt, to the affection they have for Dale.
Dale fulfilled a lifelong dream of being a long haul truck driver after he stepped away from farming. He drove for Jensen Transport in Independence, IA for 25 years before his retirement in 2012. He was fortunate to be able to see America from a different perspective than alot of people because of that occupation. He was able to take Charlene along for some trips, which was a joy for them both.
Dale enjoyed many things throughout his life, especially teasing Charlene, his beloved German woman!! His quick wit would get her laughing when he would tell people, "You can tell she's German, but you can't tell her much!" This sense of humor got them through a lot of tough times, proving that sometimes laughter is the best medicine.
Dale's love of anything IH and Farmall tractors was evident the minute you walked into his breezeway and by the many red caps he had collected over the years. If you were a friend or neighbor that drove the "wrong color" (green) tractor, you would possibly be on the receiving end of a prank that would somehow introduce the color red into an otherwise green territory!!
Dale loved his family and enjoyed watching his children, grandchildren and great-grandchildren participate in their music, theatre and sporting events. Dale was preceded in death by his parents, his son, Brent David, his oldest sister Helen E. Roberts and her husband Bill, and his sister Leona J. Gregory and her husband, William. He is survived by his wife, Charlene, his son Bruce (Dannalee) Keil of Aquila, AZ, daughter Cynthia Hoole of Tampa, FL, 7 grandchildren, 13 great- grandchildren and several nieces and nephews.