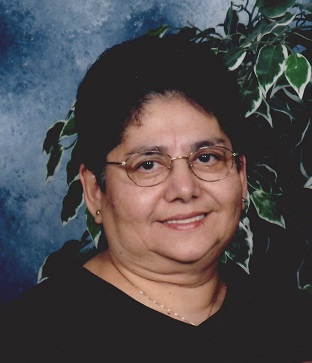 ---
Frances Potter, 78, of Oelwein died Friday September 8, 2023 at her home. Rosary services will begin at 3:30 PM on Wednesday September 13, 2023 at the Geilenfeld-Buehner Funeral Home in Oelwein. Visitation will then follow, from 4:00-6:30 PM with a Parish Scripture service beginning at 6:30 PM. Mass of Christian Burial will begin at 10:30 AM on Thursday September 14, 2023 at Sacred Heart Catholic Church in Oelwein with Fr. Ray Atwood officiating. Interment will be in Woodlawn Cemetery at Oelwein. A memorial fund has been established.
Frances Mary was born in Oelwein on May 14, 1945 to parents Felipe and Consuelo (Lujan) Ledesma. She graduated from Sacred Heart Catholic School with the class of 1963. On November 30, 1963 she was united in marriage with Delbert Potter Sr. at Sacred Heart Catholic Church in Oelwein, they later divorced. On September 5, 1981 Frances was united in marriage with Daryl Potter at Murphy Church in rural Westgate. Frances was a Registered Nurse for many years in the Oelwein area, receiving her RN Degree from Northeast Iowa Community College in 1987.
Left to celebrate Frances' life are her children: Delphine (Steve) Deaner of Hazleton, Lisa Potter of Oelwein, Delbert (Deb) Potter Jr. of Hazleton, Jack Potter of Oelwein and Joseph Potter of Oelwein; her step-children: Teresa (Loren Staake) Pfister of Postville, Brenda Potter of Postville, Jodi Potter of Postville, and her son-in-law Francisco Lopez of Oelwein; her several grandchildren and great-grandchildren; her siblings: Paul (Ione) Ledesma of Waverly, Phyllis (Gary) Trumblee of Hazleton, Rebecca (Dwight) Garner of Ryan, Jesse (Pam) Ledesma of Oelwein, Pat (Kay) Ledesma of Oelwein, Tim (Sue) Ledesma of Oelwein, Mike (Dawn) Ledesma of Oelwein and Tom (Terri) Ledesma of Oelwein.
She was preceded in death by her parents; her husband Daryl; her step-daughter Deanna Lopez; her granddaughter Ashley Plagman and several nieces, nephews, aunts and uncles.
May she rest in peace in the house of an ever loving God.