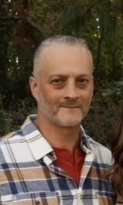 ---
Jeremy Lawless, 47, of Oelwein passed away Thursday August 17, 2023 at his home, following a courageous battle with cancer. Visitation will be from 3:00 PM-6:00 PM on Friday August 25, 2023 with a memorial service beginning at 6:00 PM with Jake Blitch officiating, at the Geilenfeld-Buehner Funeral Home in Oelwein. A memorial fund has been established.
Jeremy James Lawless was born March 26, 1976 in Los Angeles, CA to parents Jim Lawless and Tonia (Grandinette) Cisneros. He attended Independence High School. On January 7, 2011 he was united in marriage with Kim Adams in Oelwein. Jeremy was employed with Transco in Oelwein for 27 years and was currently a Supervisor.
Jeremy loved to spend time with his family, especially his Grandson, Wyatt. He was anxiously awaiting the arrival of another grandson, Oakley, in the fall. He was a man of few words but a passionate one. He was hard working, kind, and generous, never turning down a person in need. Jeremy enjoyed grilling/cooking on the deck. He prepared many meals for him and his wife, Kim and he rarely missed an opportunity to host family and friends. He was an avid sports fan and particularly loved football. He was a long time and loyal fan of the Pittsburgh Steelers and the Michigan Wolverines.
Left to celebrate Jeremy's life are his wife Kim; his children: Peyton (Dalton) Brown of Oelwein, Kordell Lawless of Oelwein, Dylan Lawless of Oelwein, Kennedy Adams of Oelwein, Delaney (Allan Orr) Adams of Maynard and Taylor Adams of Oelwein; his grandsons: Wyatt Faust and Oakley Brown; his parents Tonia (Bub) Cisneros of Oelwein and Jim (Gina) Lawless of Arkansas; his sister-in-law and brother-in-law Kelly and Eric Scheffert of Cedar Falls; his brother-in-law Michael Adams of Oklahoma; his mother-in-law Cindy Adams of Oelwein; his nephew Mason Shannon; his best friend Shanna Tylee of Oelwein; as well as many more friends.
He was preceded in death by his grandmother Lois Grandinette; his father-in-law Mike Adams; and his brother-in-law Chris Adams.