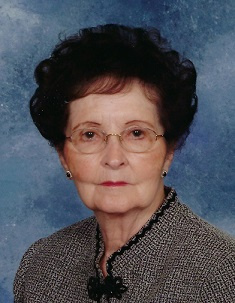 ---
Marie Stevens, 99, of Oelwein passed away Sunday March 13, 2022 at Oelwein Health Care Center. Visitation will be from 4:00-6:00 PM on Sunday March 20, 2022 at the Geilenfeld-Buehner Funeral Home in Oelwein with a Rosary Service beginning at 3:30 PM. Funeral services will begin at 10:30 AM on Monday March 21, 2022 at Sacred Heart Catholic Church in Oelwein with Fr. Ray Atwood officiating. Interment will be in Woodlawn Cemetery at Oelwein. A memorial fund has been established.
Mary Marie Stevens was born in Sand Springs, Iowa on June 27, 1922 to parents Roy and Marion (Egan) Slauson. She attended country schools in the Sand Springs area. On November 27, 1943 Marie was united in marriage with Louis Stevens at Immaculate Conception Catholic Church in Sand Springs.
Marie and Louis farmed together at Delhi, Worthington and then for fifteen years at Dyersville. In 1963, they moved to a farm west of Oelwein until they retired. During these years, they were blessed with three daughters. Marie was a loving wife and mother who provided love, guidance, delicious home cooked meals and a witty sense of humor.
Marie enjoyed gardening, fishing, cooking, mushroom hunting, dancing and travelling. She loved to host family gatherings to enjoy all her daughters and their families with good food and laughter.
Marie and Louis moved to Cleveland, MN where they lived on Jefferson Lake for fifteen years, returning to Oelwein in 1987. Many happy memories were made with their grandchildren boating, skiing, fishing, snowmobiling and holiday gatherings. They enjoyed wintering in Florida for twenty years, entertaining family and friends.
Marie was a member of Sacred Heart Rosary Society, Mercy Hospital Auxiliary and Catholic Daughters of the Americas, Court St. Rita in Oelwein.
Left to celebrate Marie's life are her children: Kay (Harold) Gieselman of Oelwein, Karen Gilson of Oelwein and Connie (Daryl) Kaltenbach of Oelwein; her nine grandchildren and sixteen great-grandchildren; her many nieces and nephews; her sisters-in-law: Mary Slauson of Seattle, WA, Mary Nebel of Dyersville and Grace Stevens of Dyersville.
She was preceded in death by her parents; her husband Louis; her eight siblings; and her son-in-law Gary Gilson.