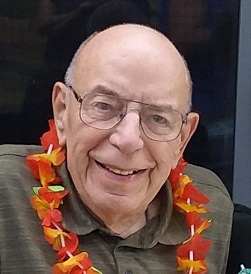 ---
Robert "Bob" Frank Paschal, 90, of Oelwein, passed away Tuesday, July 19, 2022 at his home. Visitation will be from 10:00 AM to 11:00 AM on Monday, July 25, 2022, with services immediately following at the Geilenfeld-Buehner Funeral Home in Oelwein with Rev. John Kerr officiating. Burial will be at Woodlawn Cemetery in Oelwein. A luncheon at the funeral home will follow.
Bob Paschal was born September 14, 1931 in rural Lamont, Iowa, the son of Frank and Gladys (Stewart) Paschal. He graduated from Lamont Consolidated Schools in 1949 and studied Agricultural Engineering at Iowa State University. On June 22, 1952 he was united in marriage with Jeannine Gustafson at the First Christian Church in Oelwein. Bob worked on several farms (mostly dairy) in Iowa and Arkansas before settling in Oelwein in 1966 where he began his 30 year career at Dekalb.
Growing up in Lamont, Bob enjoyed showing cattle at the All-Iowa Fair for many years and earned several awards. Bob was a member and Deacon of the Eastside Church of Christ in Oelwein, and later a member of Christ United Presbyterian Church in Oelwein, a Mason and a Boy Scout leader for many years. Bob was an excellent mechanic and all-around fix-it guy and rarely met a challenge he couldn't solve. Bob enjoyed helping others, visiting with friends and neighbors, family reunions and camping. He had a great life and will be missed by all who knew him.
Bob is survived by his six children: Nancy James of Oelwein, Vicki "Janie" (Wayne) Stevens of Oelwein, Laurie (Steve) Carson of Boulder, Colorado, Deb (Tammy) Paschal of Ventura, Jim (Cindy) Paschal of Salt Lake City, Utah, Pam (Michael) Horn of Bloomington, Illinois; his 12 grandchildren: Jenn James, Aaron James, Adam James, Justin James, Wade Stevens, Wendi Stevens, Alyssa Carson, Lauren Swafford, Lindsay Paschal, Ally Paschal, Adam Horn and Aimee Horn; 14 great-grandchildren; one great-great grandchild; two sisters: Margie Gilbert of Rogers, Arkansas and Paulena (Jim) Scanlon of Fayetteville, Arkansas; a sister-in-law: Lynda Gustafson of Phoenix, Arizona; and several special nieces and nephews.
He was preceded in death by his wife Jeannine (2018); his parents; his brother William "Bill"; his granddaughter Emily; and his great-granddaughter Brianna.