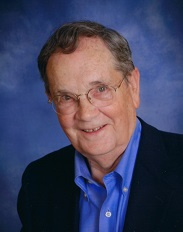 ---
Ted Bair, 94, passed away Tuesday, May 16, 2023 at his home in Hazleton, Iowa. Visitation will be from 3-6:00pm on Saturday, June 3 at Geilenfeld-Buehner Funeral Home in Oelwein, Iowa. Funeral services will be 2:00pm on Sunday, June 4 at Grace United Methodist Church in Oelwein. A memorial fund has been established.
The second of three children, Ted was born on July 12, 1928 in Keswick, Iowa to Paul and Beatrice (Lockridge) Bair. After completing high school in Keswick, Ted attended Iowa Wesleyan College in Mt. Pleasant, Iowa graduating with a BA degree.
While attending college, Ted met the love of his life, Jane (Gipple) Bair. Jane's brother Bob arranged a date for the two of them and the rest was history. On June 7, 1949 Ted and Jane were united in marriage at the United Methodist Church in Mt. Pleasant. Their union blessed them with three daughters. Ted loved his family fiercely and unconditionally. He was their strong protector and provider. Caring for his family with Jane took first priority in Ted's life. His careers in teaching/coaching, insurance sales and real estate were secondary. He also served in the National Guard of Iowa.
In his younger years, Ted enjoyed occasional hunting trips out West with his brother and a few close friends. Summers found the family driving north to spend a week on a northern Minnesota lake. Extended family gatherings were always looked forward to and singing along with the radio, either gospel or country, kept his baritone voice in tune.
Ted and Jane moved to Minnesota after his retirement from the insurance business, but the winters took them to Florida to escape the northern cold. Golfing, gardening, bird watching, reading and having coffee with friends were favorite ways for Ted to pass each day.
All who knew Ted loved him. His quick wit and cheerful positive attitude defined him. He was a man of intelligence and integrity.
Because of Ted's love and faith in his lord and savior, Jesus Christ, we have the assurance of reuniting with him in heaven.
Left to celebrate Ted's life are his wife Jane; his children: Cindy (Mike) Ruse, Barb (Gabe) Gableman and Lisa (John) Gerstenberger; his seven grandchildren; his thirteen great-grandchildren; his step-siblings: Dean (Barb) Hekel, Pat (Steve) Newland and Kent (Tana) Hekel; as well as many nieces and nephews.
He was preceded in death by his parents Beatrice and Paul Bair; his step-father Raymond Hekel; his siblings: Ron (Wanda) Bair and Bernice (Albert) Ackley; his step-sister Karen Harvey.